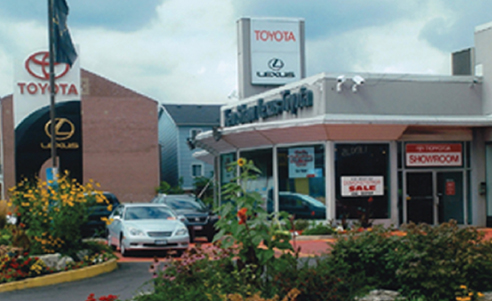 The Problem
Ken Shaw Lexus Toyota is one of Toronto's largest and most respected family-owned dealerships. With more than 50 years in the automotive industry, they have built a solid reputation for honesty and exemplary customer service.
However, one aspect of their operation was not meeting their high standards for success. An outdated pegboard key control system was their only means of organizing vehicle keys.
Unfortunately, as with all manual pegboard systems, they had no ability to track and monitor key usage. As a result of this lack of accountability, the dealership was experiencing lost time locating keys, which reduced productivity in both sales and service. In addition, the dealership was incurring a large number of traffic fines, highway tolls, and parking tickets. Since there was no way to track violations, responsibility for paying the fine then fell to the dealership.
In addition to the other issues, Ken Shaw Lexus Toyota had a large number of dealer plates. Before the KeyTrak system was implemented, dealer plates would be individually assigned to sales representatives who were then responsible for them. Since every sales rep had their own plate, this meant the dealership had a significant amount of money tied up in dealer plates. Also, missing plates often went unreported by sales reps, which caused not only replacement cost problems, but liability issues as well.
Paul Shaw, co-owner of Ken Shaw Lexus Toyota, realized that there had to be a better way. In his words, "Key security, accountability, and cost efficiencies are paramount."
"I can't imagine doing business without KeyTrak."
The Solution
A three-drawer KeyTrak system was installed. In addition to a standard 240-key drawer, this system features two dealer plate drawers that can each secure 10 dealer plates and 112 sets of keys. This gave Ken Shaw Lexus Toyota the ability to have a 100 percent verifiable audit trail on keys and dramatically reduced the number of dealer plates.
The Results
During the KeyTrak installation, all of the dealer plates were entered into the system. Now when a sales representative needs to use a dealer plate for a demo, they simply check one out of the KeyTrak system. This makes life easier on the sales reps because they no longer have to keep track of dealer plates that are permanently assigned to them and they are not spending time looking for dealer plates.
Management benefits by having a verifiable audit trail that makes it easy to track down missing plates. Since installing the KeyTrak system, Ken Shaw Lexus Toyota has been able to reduce the number of dealer plates they use by two-thirds.
Overall, accountability is the most important aspect of the KeyTrak system to Ken Shaw Lexus Toyota. Knowing who has a key or plate at any given time allows them to run more efficiently with reduced overall costs. Paul Shaw summed it up when he said, "I can't imagine doing business without KeyTrak."
Contact Us For More Information