Are smart locks a smart move for your property?
Decide If Smart Locks Are Right for You
With more people living a connected lifestyle, some multifamily communities are migrating to smart locks. But what if residents don't want them? Or what if they're more of a burden then a benefit to your property?
Image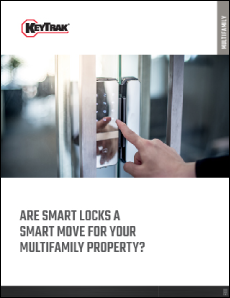 Avoid Not-So-Smart Security Mistakes
Before deciding to implement smart locks, think through all the implications. Consider how residents feel about them, how you'll adjust your policies and procedures, and how you'll manage smart tokens. Download our whitepaper to help you decide if smart locks are right for you.
Download the Whitepaper
Decide if smart locks are right for you.
https://www.keytrak.com/thank-you/thank-you-142