Miya's Law has passed in Florida.
Don't get caught with outdated key log policies.
In 2022, Miya's Law passed in Florida to help strengthen renter safety. Multifamily communities are now required to:
Run background screenings on current and new employees

Provide reasonable notice for repairs

Establish key control policies and procedures

Maintain an accurate key access log

Provide proof of compliance to the Florida Department of Business

and Professional Regulation (DBPR) upon request
If state officials inspected your property today, would you be ready? Download our quick guide for simple tips on how to update your key control policies and procedures.
Image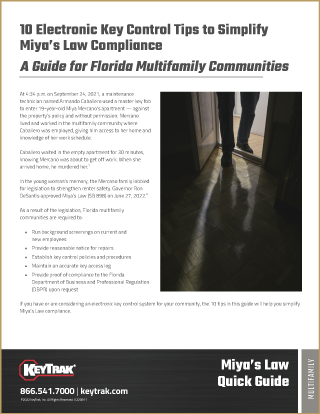 10 Tips to Simplify Miya's Law Compliance
A Guide for Florida Multifamily Communities
Download the Quick Guide
Follow the tips in this guide to make compliance easier.
https://www.keytrak.com/thank-you/thank-you-391