KeyTrak Guardian
Total Lockdown. Modular Expandability.
The KeyTrak Guardian is a customizable, modular security solution that takes electronic key and asset management to the next level by enabling you to manage multiple types of assets, such as satellite phones, global positioning systems, high-security keys, small equipment, or access cards.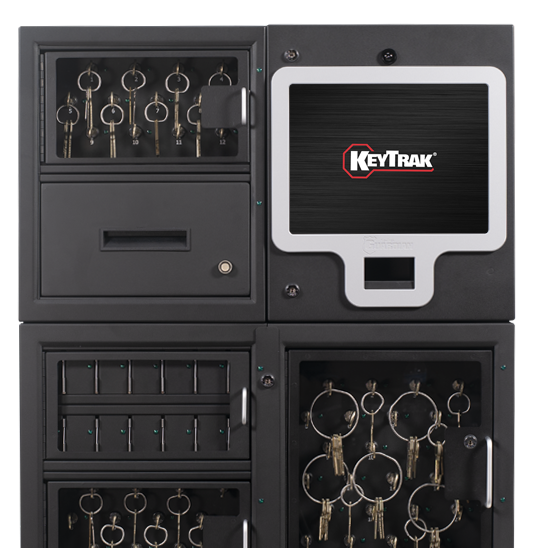 The wall-mounted Guardian electronic key control system allows you to individually lock down keys and store assets.
How It Works
Total Lockdown
The Guardian provides a total lockdown solution for facilities desiring complete key and asset security. If employees have different levels of access to specific areas within a facility, or specific assets in that facility, the Guardian solution provides total accountability and control.
Between the physical security of having each key or locker individually locked down and the mental security of knowing where keys and assets are at all times, Guardian offers complete peace of mind.
Modular Expandability
One Guardian SmartPanel can control any combination of secure key panels, locker panels, card modules, and key tag drawers. Choose from any combination of modules, panels, or drawers to complete your specific security requirements and can be easily expanded as your needs require.
Guardian Features
Touchscreen Monitor
Each system comes with a 15-inch SmartPanel touchscreen monitor.
Built-In Fingerprint Reader
Each SmartPanel includes a biometric fingerprint reader to combine high security with efficient access.
Motion-Activated Video Camera
Discreetly mounted on the front of the SmartPanel, the motion-activated camera will capture panel activity whether someone is accessing a panel or even standing in front of the system. No activity will go untraced.
Remote Access
With Guardian web access, all administrative and reporting functions can be accessed by any PC with a network or internet connection to the SmartPanel. Administrators can add new users, change access levels, create reports, and more, all from their desktop PC or laptop.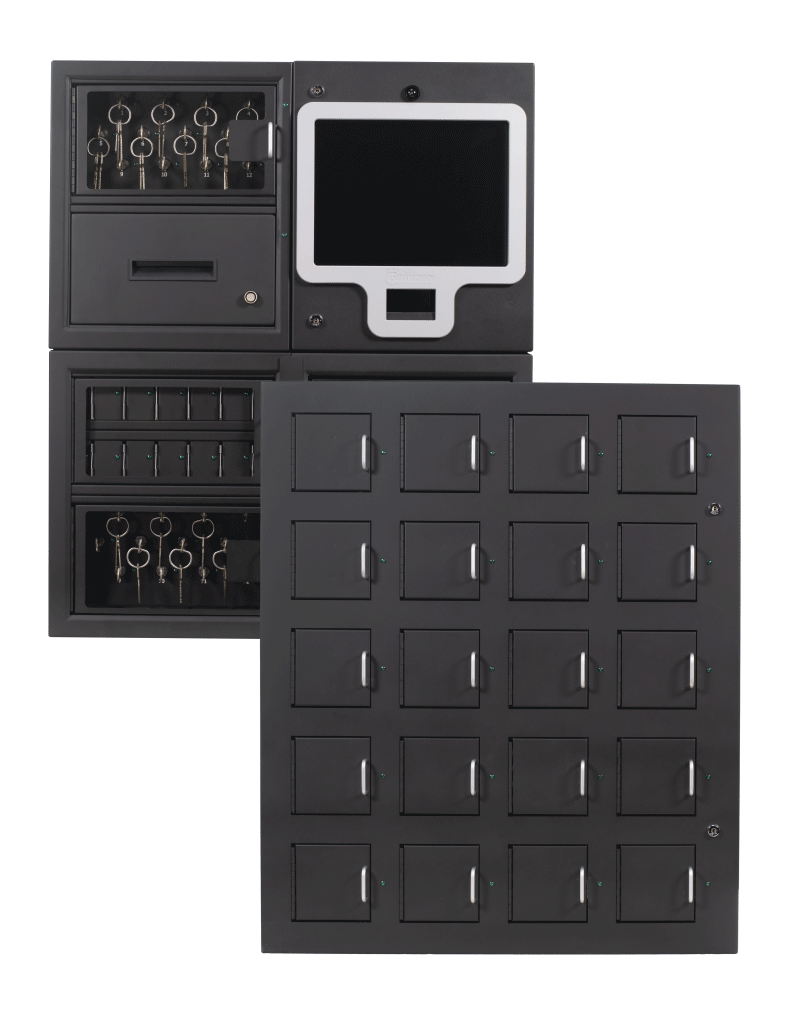 Benefits and Pricing
In addition to the security features, the Guardian system provides extensive reporting capabilities to allow you to easily track all asset access, giving you a more complete picture of activity. All Guardian reports can be run automatically and sent directly to an email address. The moment a key or asset is removed from a drawer, a verifiable audit trail is automatically created, protecting your business and employees from liability.
Because we custom build each system, pricing varies. After we determine your key and asset management needs, we'll send you a quote as soon as possible.
Unmatched Authentication
Built-in biometric fingerprint reader
User password
Proximity card
RFID or magnetic strip card
Single, dual, or tertiary login
Security and Accountability
Lock down individual keys and assets.
Combine modules to form a custom solution.
Assign access levels to individual users.
Set time limits on sensitive keys and assets.
Receive text and email alerts for overdue keys.
View detailed system information by model and type.
Technical Specifications
If you're looking for technical information and system dimensions, download our guide.
Download Now
Contact Us for More Information
https://www.keytrak.com/thank-you/thank-you-380
Download our
whitepaper
and learn the best ways to use KeyTrak.
Thank You
Thank you for your interest in our whitepaper. Please click the link(s) below to download the whitepaper.