Solutions for Correctional Facilities
Protect Your Facility and Staff
Correctional facilities everywhere face challenges such as overcrowding and staff shortages, which increases stress levels and the risk of mistakes like lost keys. If you're still using paper key logs, this time-consuming and error-prone process further increases risks to your facility and officers.
Get control of your keys with our KeyTrak Guardian system. It secures and automatically tracks exactly who took keys and when to give you a verifiable audit trail of key activity. You'll be able to prevent keys from falling into the wrong hands and react quickly if a key isn't returned in a timely manner, helping you protect your facility and staff.
"We realize how important it is to have effective control of keys, especially in our jails. Guardian has changed our facilities for the better."
Lock Up Your Keys With KeyTrak
To meet your facility's specific needs, you can customize our modular, wall-mounted Guardian system. It secures keys behind a tamper-proof panel, reducing the risk of lost or stolen keys. The optional secure lockers also allow you to manage small assets, such as radios and TASERs. Officers can quickly and securely access the items they need while keeping all other items in the system locked down.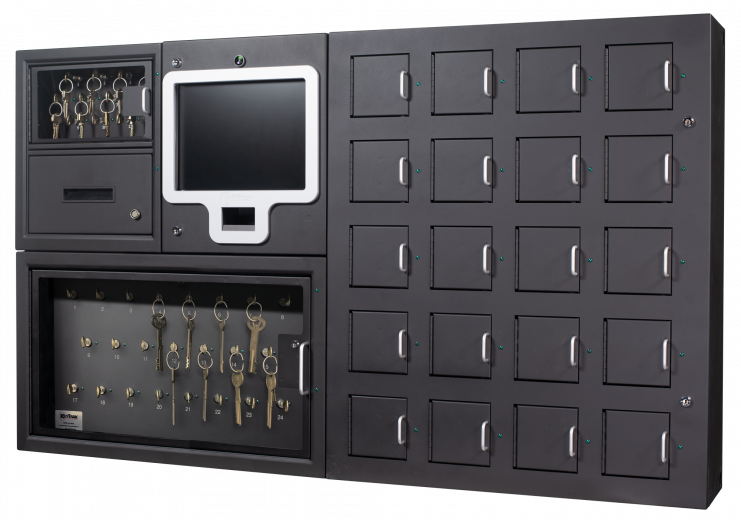 KeyTrak Guardian
Store keys in central locations, giving COs quick, safe access.

Secure Folger Adam keys in panels that individually lock down each key for maximum protection.

Secure a variety of keys with patented, solid steel lock cylinders.

Prevent mistakes inherent in manual paper logs by automatically logging every transaction.

Alert senior officers when keys aren't returned within a designated time frame.

Use lockers to secure and track access to weapons, radios, mobile devices, and more.
Learn More About KeyTrak Guardian
Contact Us for More Information
https://www.keytrak.com/thank-you/thank-you-412