Solutions for Securing Law Enforcement Assets
Secure your sensitive assets.
Along with managing key access, your law enforcement agency is responsible for securing assets such as Tasers and radios. Consider the repercussions — financial, legal, and reputational — of these items falling into the wrong hands.
You might be thinking that your assets are safe because they're stored in a room secured by lock and key. But where do you keep the key to that room? Is it secured behind a login, or is it simply in a desk drawer or on someone's keychain, where it could be easily lost or stolen?
To protect your sensitive assets, consider our Guardian asset management system, which uses tamper-proof steel lockers. We offer lockers in varying sizes to hold items of all sizes, and our authentication methods — biometric fingerprint reader, password entry, and/or proximity card — ensure only authorized users can access the lockers.
Asset Protection Key Tracking Features
KeyTrak's electronic key control systems help mitigate employee risk by automatically holding officers accountable for the keys, equipment, and weapons they manage. KeyTrak systems store keys in either a secure electronic drawer or a tamper-resistant panel. Optional locker modules can store and track assets such as equipment and weapons.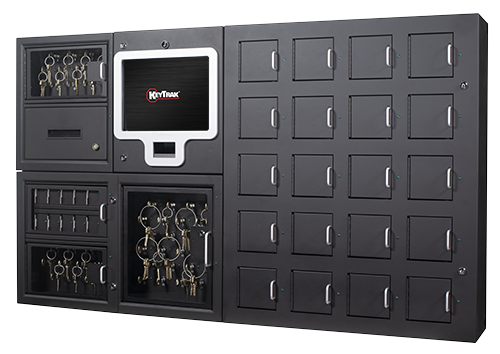 KeyTrak Guardian
Guardian offers a wide range of features that can be combined to fit your specific security needs.
Benefits
Manage key access to other areas of the facility, such as gun lockers, offices, and evidence rooms.
Secure TASERs, radios, pepper spray, ammunition, and mobile devices in lockers.
Track access to fuel cards.
Hold staff accountable for keys or other assets they're authorized to use.
Prevent unauthorized users from accessing keys or assets they don't need.
View Guardian System
Contact Us for More Information
https://www.keytrak.com/thank-you/thank-you-411